CONGRATULATIONS

CONGRATULATIONS ARE IN ORDER! 
Congratulations to the following members for continuously improving their skills and gaining new knowledge with PMI.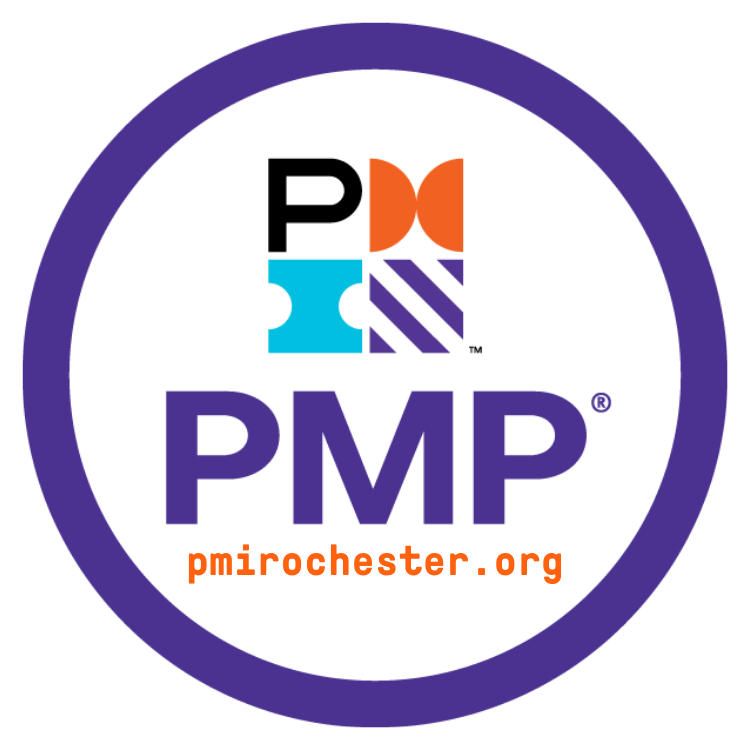 Romeo Agazuma
WELCOME

CELEBRATE NEW MEMBERS 
Our chapter continues to grow! Let's welcome the following new members of PMI Rochester:
Kaelin Allmendinger
Robert Beutner
Jillian Cordts
Lea Ludwig
Matthew Minnig
Katelin Pickard
M Elizabeth Ramsay Marchese
Jessica Register
Sean Robbins
Mahesh Weerasooriya
Geoffrey Wimer
Welcome and thank you to all of our new members!
ANNUAL BUSINESS MEETING 2022
Greetings my Fellow PMI Members,
It was really great to see so many faces that we haven't been able to in the last few years at the Annual Business Meeting. Each of the Board members were able to share their team's progress throughout the year and goals for next year.
We were able to share really big news… the PDD is back this year, the same venue, and now in November. We look forward to truly being able to see everyone in person for the annual event. The speakers will be announced soon.
PMI has also been determining its culture and specifically what it needs to be going forward. They are looking for your input to make it the best it can be. Also, the Talent Triangle is getting an update to be able to support PMI members in the future. Lastly, I'd encourage our Chapter Volunteers and Members to look at the Global Summit. It's truly the biggest event of the year to learn more about PMI and the Project Management Industry. It'll be in Las Vegas this year at the beginning of December. Remember great things happen when you get involved with PMI.
PMI Rochester Chapter President
Jason Becker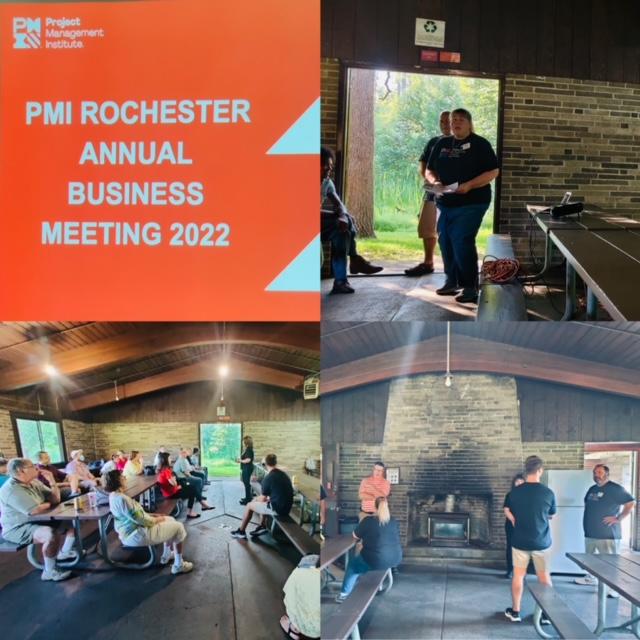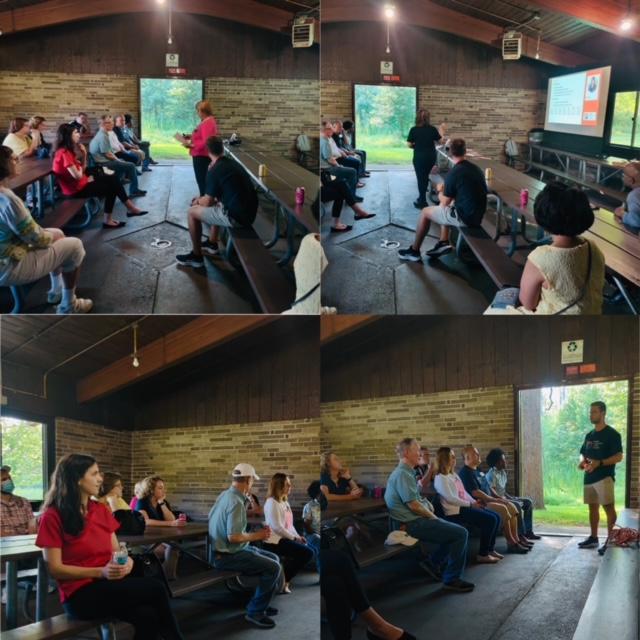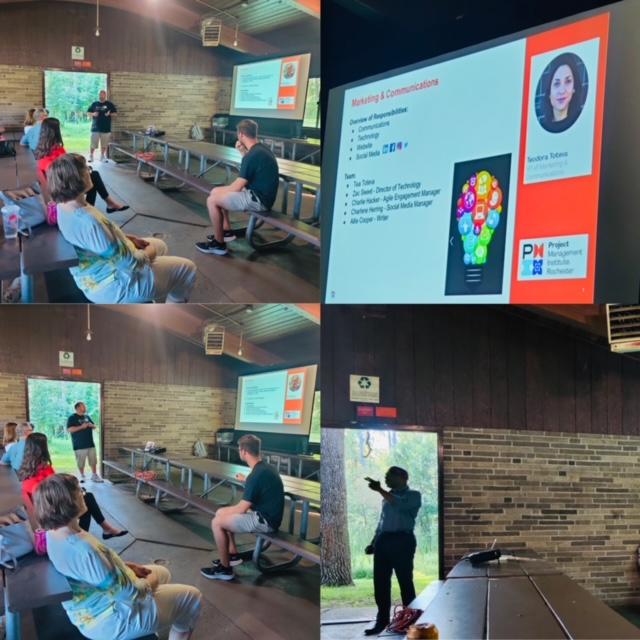 This year, we kicked off summer with our Annual Business Meeting at Ellison Park! The Board shared their annual updates and 2022 accomplishments with the members that attended, and then we all hung out around the picnic tables with pizza and wings. This was a great opportunity for old friends to reconnect and for new members to be introduced to the chapter. Thank you to everyone who came out and enjoyed the beautiful weather with us. We hope all of our members have a safe and relaxing summer, and we look forward to seeing you all again in the fall!

Stephen Lynch
PMI Vice President of Membership
PMI CULTURE VALUES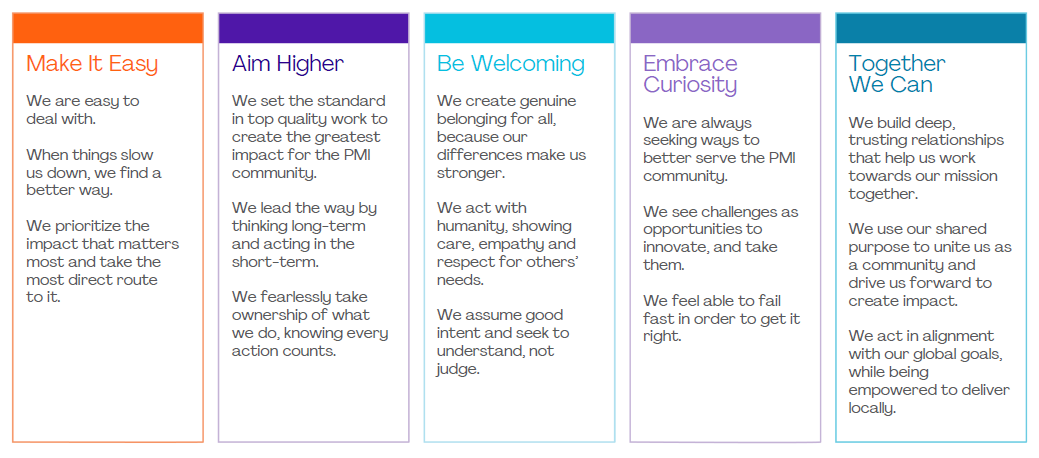 The image above is from a recently published document by PMI Global highlighting the culture, values, and behaviors of the organization, announced recently during the 2022 Global Summit. With a focus on creating a culture of inclusivity, working collaboratively and embracing challenges, these values are designed to unite all individuals who interact with Project Management Institute. Whether PMI staff members, chapter volunteers or otherwise, as we work together to strive toward our common goals, the values are a reminder of where we should be focusing our efforts.

To learn more about the PMI culture values visit: https://www.pmi.org/leadership-central/pmi-culture-values
PMI VOLUNTEER AWARDS 2021/2022
We had an absolute blast at the Volunteer Awards on May 18, 2020! Congratulations to the winners: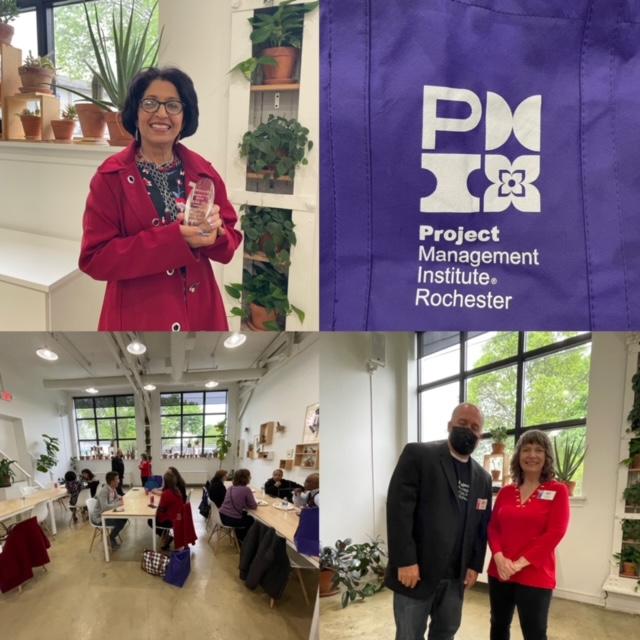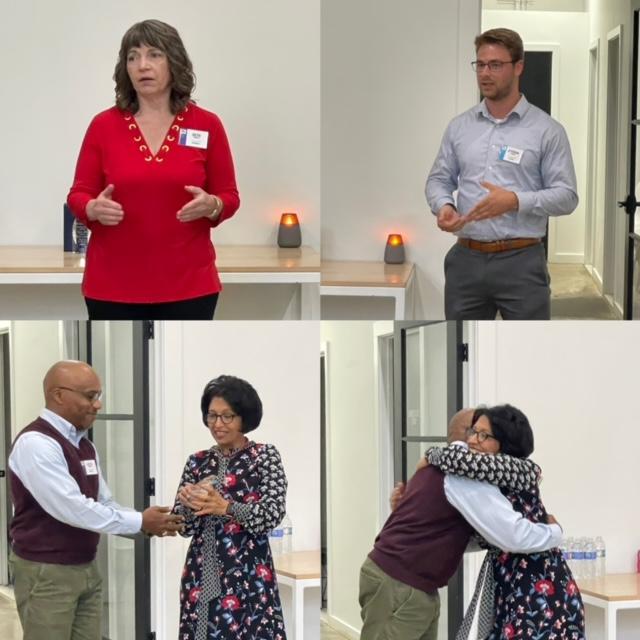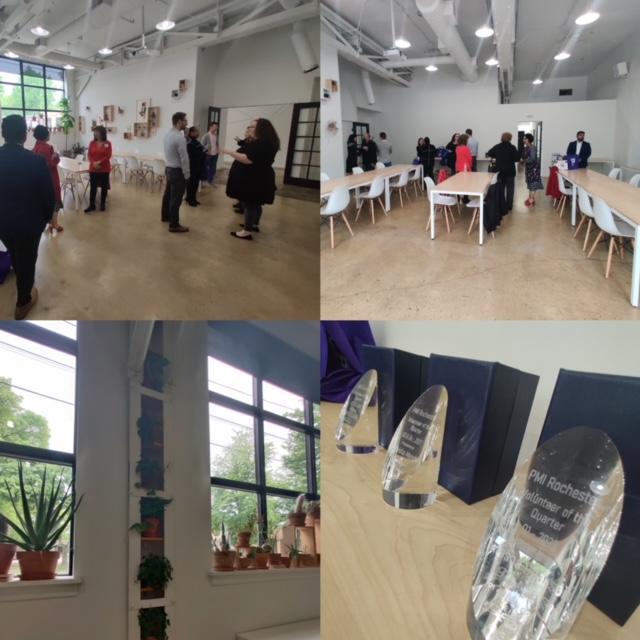 Robin Louvain, Volunteer of the Quarter, Q1 & Q2 2021
Manisha Mande, Volunteer of the Quarter, Q3 & Q4 2021
Talasha Pearson, Volunteer of the Quarter, Q1 2022
We cannot say THANK YOU enough for all the time, effort, and heart you all, volunteers, put into PMI Rochester Chapter! Good Things Happen When You Get Involved with PMI Rochester... but it is all possible because of our Volunteers!
THE NEW PMI TALENT TRIANGLE
The PMI Talent Triangle is evolving to better reflect the skills needed by today's project professionals and changemakers as they navigate the evolving world of project management.
Watch a BRIEF VIDEO, access FAQs or read THIS FILE.
REGION 4 LIM 2022 RECAP
Region 4 Leadership Institute Meeting Orlando, Florida March 31-April 2, 2022

As the project management world continues to move forward, PMI has evolved too! Last month, 2 board members were able to attend an in-person Region 4 event in Orlando. This is the first time PMI has had an in-person event since the pandemic began.
We were able to connect with other chapter leaders in the Region to discuss current issues such as membership decline, volunteer engagement, and the new ATP challenges. It also provided us time with PMI's Global Leaders, to better understand the challenges and changes they are seeing.
PMI is addressing the future of PMI by understanding and developing its culture. It has brought on a firm to assist with the process. The Board feels that setting up the correct culture is the #1 priority to determine the next steps with strategy. They are on a journey to define and build their future culture and they are involving the whole PMI community to get there. They had sessions to share their plan and capture our input.
It's great to see the PMI community alive and doing well. Just like when flowers hibernate during the winter months, PMI is beginning a new year and the launch of in-person activities is paramount. They shared with us the Global Summit Conference with being in person in Las Vegas starting November 30.
I'm looking forward to the great things PMI offers with new changes on the horizon including in-person meetings, talent triangle refresh, and tools volunteers utilize to aid our chapter. I'm hoping to see you at one of our upcoming in-person events.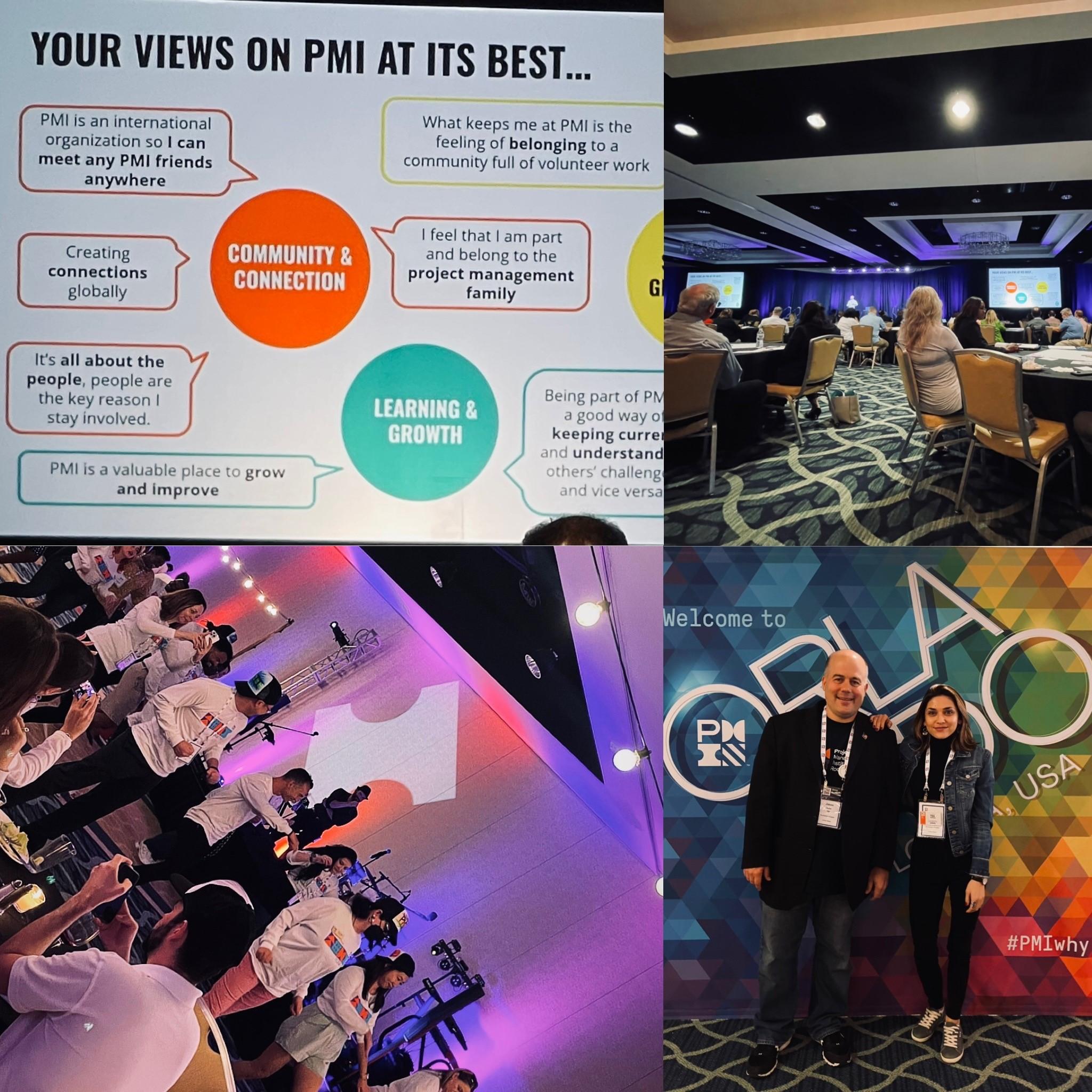 Jason, PMI Rochester Chapter President
'THE ALCHEMIST' REVIEW BY MANISHA MANDE
Manisha Mande, PMIEF Liason for PMI Rochester, wrote a beautiful book review of 'The Alchemist' and she was kind enough to share it with us and our local PM community. Please, take some time and read her review and her insights about this amazing book by Paulo Coelho HERE. Enjoy!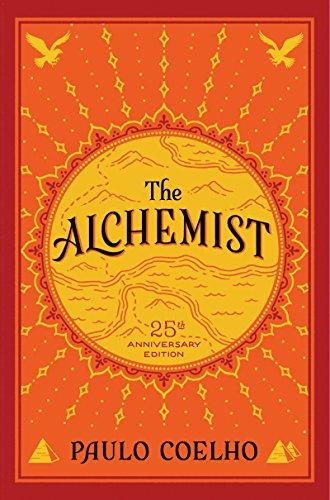 SOCIAL GOOD FOR YOUTH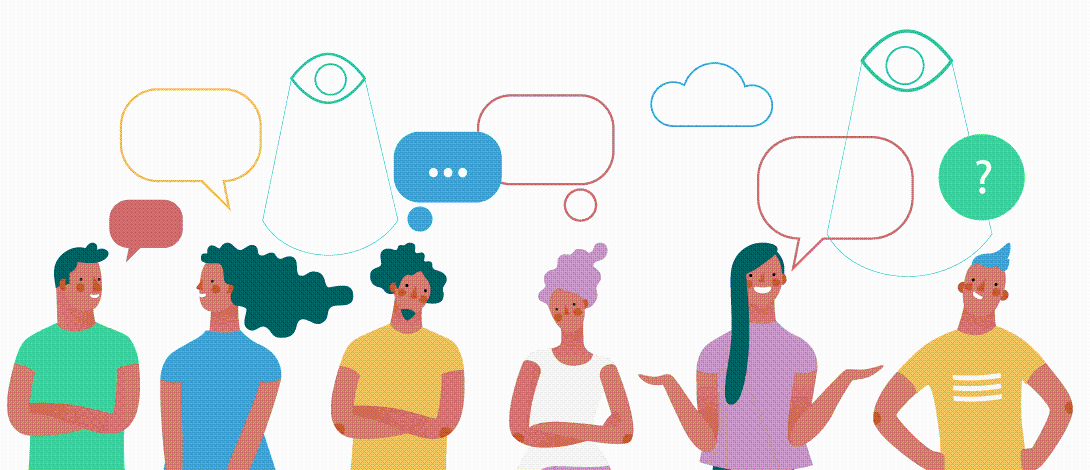 Big Idea, Bite Sized Learnings
In 2019, Rochester PMI embarked on a journey to work with local non-profit organizations serving youth to find ways to introduce them to the profession of project management and teach their youth project management skills for life. So was born the Social Good for Youth program with me cheerleading it. We were well on our way to engaging with two non-profits serving youth in the inner Rochester city when the pandemic hit. All plans had to be put on hold. No matter where you lived or what you did, COVID-19 was something to reckon with. Although it's been a difficult year and a half, as the summer of 2021 dawns, somehow we have survived this tidal wave and have adapted to its implications, amid pandemic restrictions. Not one to give up easily, I persevered to find ways to engage non-profits even if it meant remotely.
In order to understand the pride I have in my PMI volunteer presenters and the YVOV students, I have to take you back to an afternoon in late February 2021, when I was introduced to Tremain Harris – the lead coordinator for the Youth Voice, One Vision (YVOV) group. Youth Voice, One Vision is the Rochester Mayor's Youth Advisory Council and is an active council of young people working together to make Rochester a better place to live, and is coordinated by the Department of Recreation & Human Services. YVOV has a strong and stable presence in Rochester. You can learn more about Youth Voice, One Vision by clicking here.

After an initial introductory meeting where I shared the objective and details of the Social Good for Youth program, Tremain was excited and suggested that he would talk to his student team and inform me because he was sure they would want to learn these project management skills. Within two weeks, he emailed letting me know that the student council had agreed to work with us to kick off the very first Social Good for Youth (SG4Y) program. I was thrilled!
We had a couple of discussions with Yassir Smith and Thaxton Hamlin about the layout and content needed to set us up for success. After a couple of planning sessions, we started on a 10-week journey on April 7th that will now culminate in a graduation ceremony on June 9th.
In this 10-week engagement we focused on the fundamentals of project management as well as tools and techniques to help develop skills to become a good project manager. We met with the YVOV students once a week for two hours, with additional support outside of class as needed. The 
students applied the concepts they learned in class to theirn 
project - the YVOV Online Newsletter. Each lesson not only focused on the main project management knowledge area, tools and techniques, but each presenter also weaved in a soft skill (such as team building, conflict management, accountability and trust building) into their presentation along with some fun ice breakers. The teachings were a combination of in-class and remote learning. Each week a minimum of one student played the role of project manager and worked with the student team to complete activities to move their project along.  We have nine brilliant students who have been engaged via this program and six amazing presenters from PMI Rochester chapter (Eva Otero, Stacy Munechika, Fremel Backus, Charlie Colbert, Keith Parris and myself).
Below is a beautiful picture of the student team participating in the program. At the Top of the stairs we have AmmaZia Evans-David, Jayven Cruz and Hillary Powell. Seated on the row below we have Calvin Holloway and Zahir Windom. Seated below them in the red t-shirt is Patrick McDermott, Amarah Anderson and Nizhier Windom. At the very bottom of the stairs we have from the left Tremain Harris (lead coordinator), Yassir Smith and Thaxton Hamlin. 
Yassir and Thaxton follow up with the youth after each session to make sure they understand the material. Also, they support the PMI staff by offering institutional knowledge about the youth and the structure of YVOV.  
What is even more exciting is that two students will be selected by the YVOV coordinators who will be given a 10 week summer internship with the University of Rochester Medical Center (URMC) – Information Systems Division (ISD) starting end of June, 2021. A huge shout out to URMC-ISD management and its Project Portfolio Office (PPO) Director Michelle Venezia for supporting the summer internship program. Thanks to PMI Rochester for providing each student with a Certificate of Completion and our fabulous volunteer presenters!
If you are interested in joining your fellow PMI Rochester members in outreach programs like this - please contact Manisha Mande (contact details below). We are always looking for volunteers who want to make a difference in our community!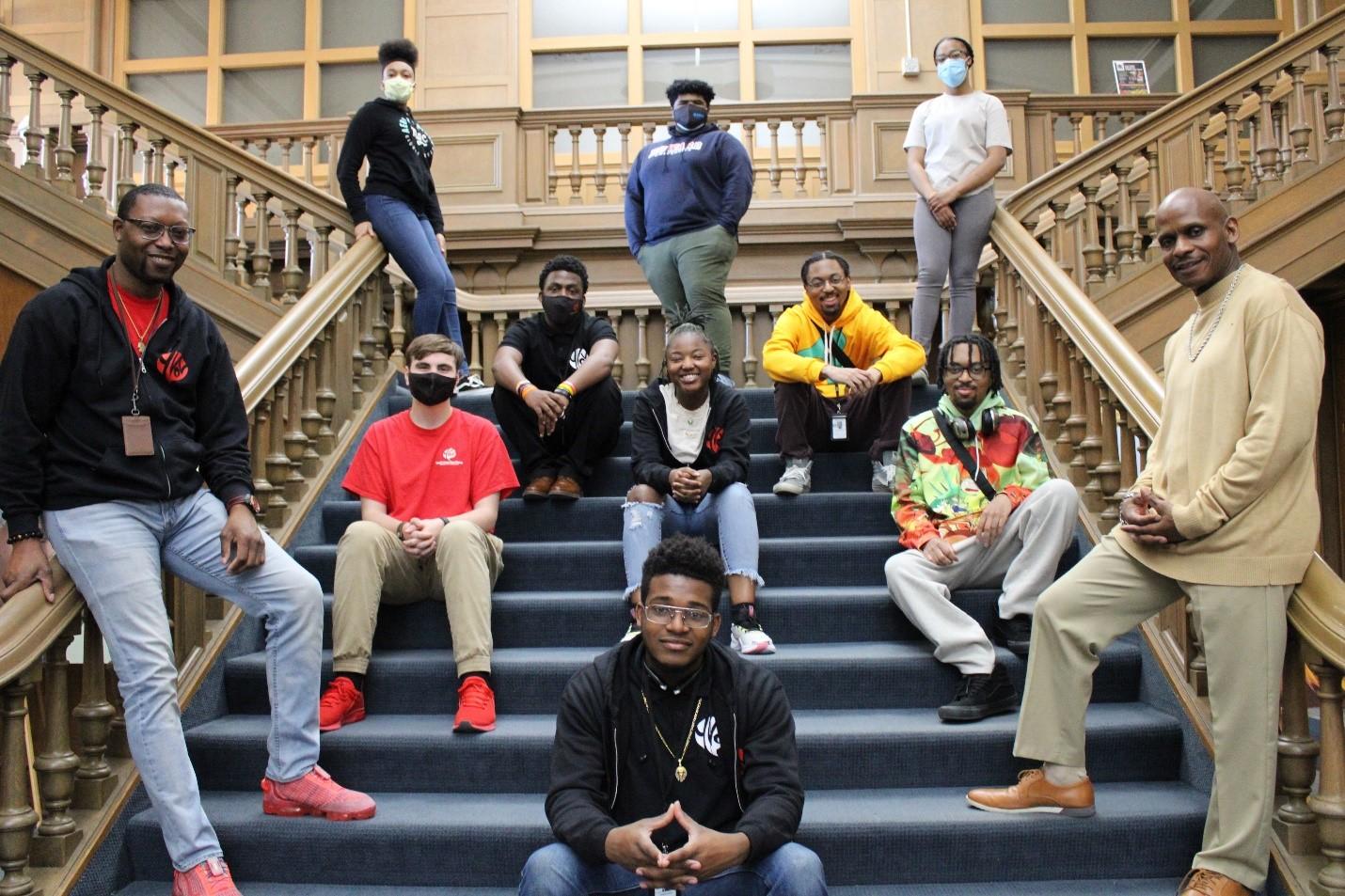 Manisha Mande, PMP, DASSM, CSM      
Social Good for Youth Program Manager
Email: Manisha_Mande@urmc.rochester.edu
Phone: 585-758-7622
THE NEW PROJECT MANAGEMENT READY CERTIFICATION FOR STUDENTS
The PMI Project Management Ready certification presents the tools needed to apply this knowledge to a wide range of career paths, and to the student's day to day activities.
Developing project management skills will serve students throughout their lives. The PMI Project Management Ready certification is a way for students to immerse themselves in the project management industry and connect with this passionate community of professionals.
The PMI Project Management Ready introduces learners to:
 - Project Management Fundamentals and Core Concepts
 - Traditional Plan-Based Methodologies
 - Agile Frameworks/Methodologies
 - Business Analyst Frameworks

The PMI Project Management Ready is aligned with Certiport's  "Learn, Practice, Certify" model. Courseware, practice tests and the certification exam will be offered through Certiport. The courseware will be available in October, practice test and exam available December 2020. Learn more about Certiport: https://certiport.pearsonvue.com/. 
If you are an individual or a school/test center and you are interested in obtaining pricing details about the Project Management Ready certification, practice tests, or learning materials; learn more from Certiport: https://gocertiport.pearsonvue.com/PMI.
KICKING OFF YOUR PROJECT HAS NEVER BEEN SO EASY
Project Manager may not be your job title. But you'll still be asked to manage projects throughout your career. Kickoff will show you how.
IT IS FREE!!!
This is a tutorial on the basics of Project Management for anybody - from Students to anyone who is managing projects in their day to day activities. 
This is a free 45-min course that has partnered up with tech giants - like Amazon, Tech Mahindra, and PMI. After completion of the course, it awards you a PMI badge that one can share with Social Media including LinkedIn.
See more information here: https://www.perfectkickoff.com/