CONGRATS
CONGRATULATIONS ARE IN ORDER! 
Congratulations to the following members for continuously improving their skills and gaining new knowledge with PMI.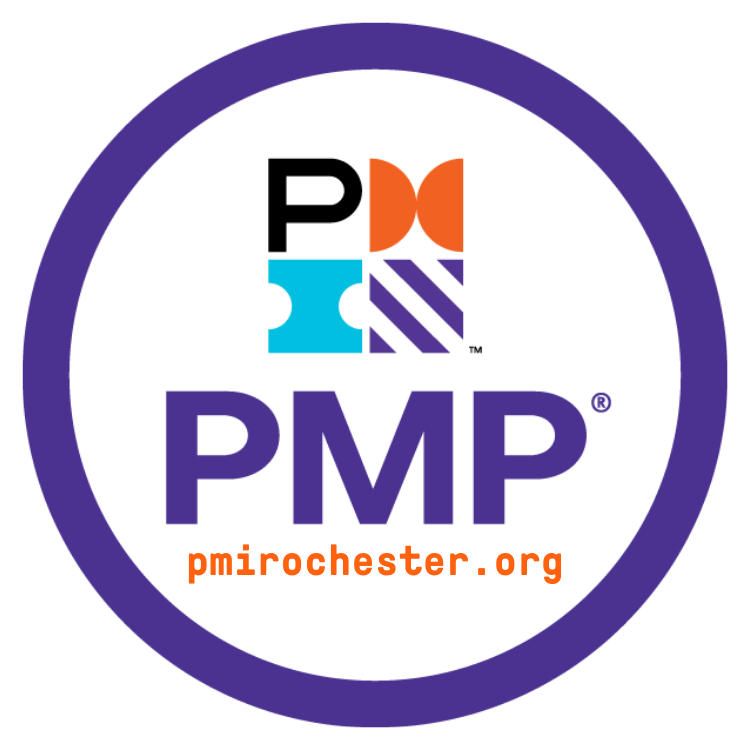 Debra Benson
Chukwunonso Nwanze
Anthony Sassone
Drew Sergent
Maria Gorevski
Christopher Fuchs
Megan Swartz
Amanda Satterwhite
Jill Fisher
Pedro Fernandez
Jill Galinski
Charles Rath
Jeremy Charette
Matthew Whaley
Johanne Korrie
Jean-Robert Laprime
Ajay Nayyar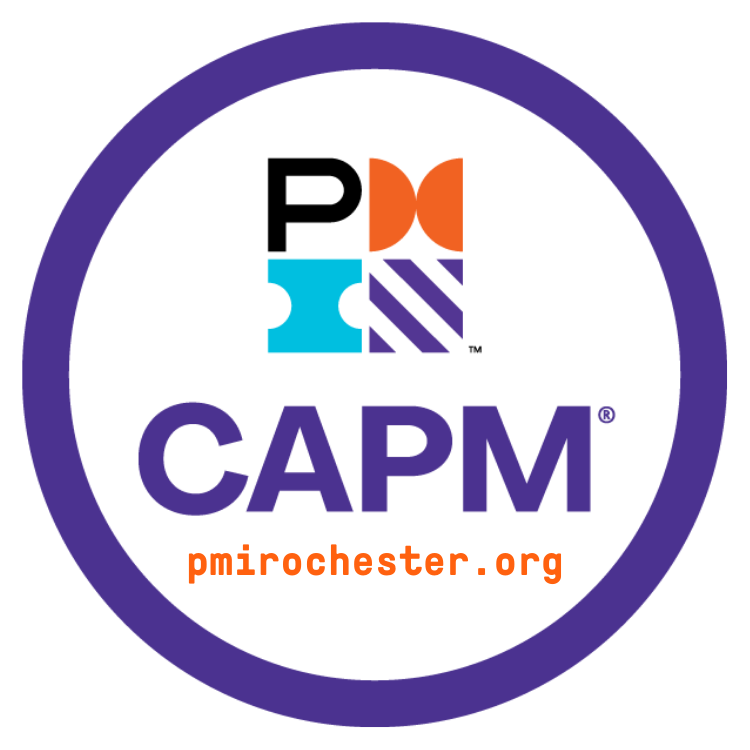 Joshua Fleck
Josh Sova
Anntionette Crouch
WELCOME
CELEBRATE NEW MEMBERS 
Our chapter continues to grow! Let's welcome the following new members of PMI Rochester:
Curt Boshnack
Christine Brower
Ericca Caccamise
Katie Clapp
Scott Divens
Justin Feasel
Jill Galinski
William Harsell
Laurie Lanphear
Jean-Robert Laprime
Stephen Lynch
Shreeya Sawale
Leah Stormo-Soles
James Throckmorton
Michael Zanghi
Welcome and thank you to all of our new members!
ROCHESTER PMI FOOD RAISER!
Being good neighbors, PMI Buffalo reached out to Rochester PMI to ask if we would be interested in participating in a food drive for any local charity of our choosing through YouGiveGoods.com. We picked FoodLink of Rochester as our local charity. YouGiveGoods.com would directly deliver the donated food to them. The donated food would be marked as coming from our Rochester PMI chapter. This would be a great opportunity not only to do some good but also to collaborate to help one's local community.
This was a no brainer! Our members could contribute by going online with zero exposure to the virus! A short 4-step process was created. The link could be reached right from our smartphones. We jumped at this idea. Our marketing campaign was simple and directed towards the Rochester PMI chapter participants. As I shared this idea with my friends who are not PMI members, they asked to contribute and of course they opened their wallets to do good in the community!
We set a target of 500 pounds and our chapter got us through to 407 pounds. A huge thank you to all our Chapter members and non-members. To help us close the gap, the Rochester PMI Board approved to get us over to the finish line by contributing $350.00 to get us to 514 pounds! Thanks again to the Board for their generosity!
It feels so good to give back.
- Manisha Mande
'THE ALCHEMIST' REVIEW BY MANISHA MANDE
Manisha Mande, PMIEF Liason for PMI Rochester, wrote a beautiful book review of 'The Alchemist' and she was kind enough to share it with us and our local PM community. Please, take some time and read her review and her insights about this amazing book by Paulo Coelho HERE. Enjoy!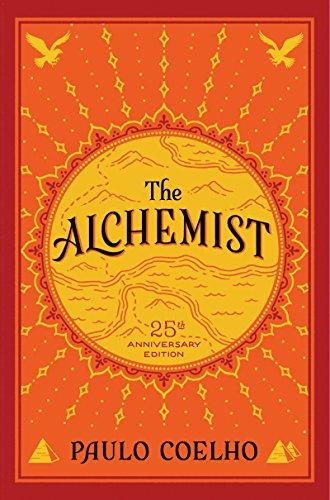 HARDSHIP PROVISIONS
PMI Hardship Provision is available to help members renew their membership. A PMI member whose financial condition has changed drastically and sufficiently so that a member would have difficulty renewing their membership. A member must be in good standing for at least three previous years to qualify for the hardship provision. Under this provision, a member is granted a waiver for one year of PMI membership dues and one year of dues for membership in any two PMI Chapter of which the applicant was a member the previous year. The Hardship Provision may be granted for a maximum of two years for each member.  Prior to the membership expiration date. Contact PMI Global for more information. 
Please remember that any incorrect or untrue statements made by a member are in violation of the PMI Member Ethical Standards-Member Standards of Conduct and may lead to the initiation of an ethics complaint in accordance with the PMI Member Ethics Case Procedures
Contact PMI Customer Care
PMI 2.0
As PMI's transformation evolves, how PMI will work with its stakeholders becomes clearer. Find out the most current information regarding the research and activities that are shaping the way we work with our five "partner channels" (chapters, ATPs, academic programs, organization relations and volunteers) in support of making PMI the association of the future. Reach out to any of the chapter leaders to learn more about what we are doing to support these global initiatives. Click here to see our leadership team.
ITHACA BRANCH NEWS

Check back for Ithaca news soon!
If you're interested in joining the volunteer team for any of these activities, please reach out to me at Ithaca@pmirochester.org.
We're looking forward to an exciting 2020!
Chris O'Brien
VP of the Ithaca Branch
35th ANNIVERSARY PRESIDENTS INTERVIEW SERIES! INTERVIEW WITH A PRESIDENT!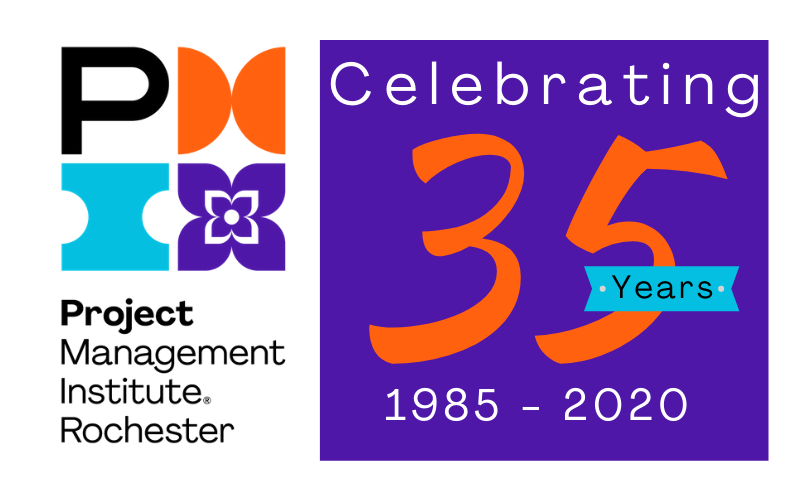 For the PMI Rochester Chapter 35th Anniversary, we are celebrating this milestone by celebrating our leaders; the ones who brought us to where we are today. We have certainly come a long way, baby! PMI Rochester will be releasing a series of interviews starting in September with the current President, Lori Gacioch and working back in chronological order. This is going to be some interesting and exciting stories to hear! Along with our host, Christine Freeman, who does an amazing job in pulling out all the stuff you want to hear! The hot goss! Don't miss out on how PMI Rochester went from zero to 900+ members, all the growing pains and how each leader and group of volunteers brought their very own flavor of success to grow this chapter to what it is today.
Check our History Page
JOURNEY TRAINING INSTITUTE: Closing October 30, 2020
It is bittersweet to announce that Journey Training Institute has decided to close their doors. Steve and Laura Wilson, owners of JTI have served the Rochester and surrounding communities with in person PMP and CAPM prep training courses. In recent years they also added PMI-ACP prep training to their portfolio of offerings. Steve and Laura have served the Project Management Community beyond their JTI years by coordinating and hosting low cost PDU events for PM's as well. Their commitment and care to this community will never be forgotten. We wish them well in their retirement!

If you did not receive their email announcement, here is the content:
PMI ROCHESTER IS JOINING THE 21-DAY RACIAL EQUITY CHALLENGE!
Our Chapter joined the 21-Day Racial Equity Challenge! YOU CAN JOIN as well, all you need is to sign up! You can: 
* SCHEDULE TIME FOR LEARNING AND REFLECTION 
Block off 10-15 minutes on your calendar each weekday from October 23 - November 20 to dedicate to the Challenge.
*SHARE THAT YOU'RE TAKING THE CHALLENGE
Download the Challenge badge (image above) to share on social media and in your email signature to let your friends, family and colleagues know that you're committed to equity. You can invite them to participate, too! 
*GET READY TO BE UNCOMFORTABLE—AND GROW!
Through this challenge, you will likely learn something new, reflect on difficult topics, and take action in brand new ways. Embracing new thoughts leads to new strengths!
For more information: https://www.uwrochester.org/Community-Impact-Fund/21-Day-Racial-Equity-Challenge
THE NEW PROJECT MANAGEMENT READY CERTIFICATION FOR STUDENTS
The PMI Project Management Ready certification presents the tools needed to apply this knowledge to a wide range of career paths, and to the student's day to day activities.
Developing project management skills will serve students throughout their lives. The PMI Project Management Ready certification is a way for students to immerse themselves in the project management industry and connect with this passionate community of professionals.
The PMI Project Management Ready introduces learners to:
 - Project Management Fundamentals and Core Concepts
 - Traditional Plan-Based Methodologies
 - Agile Frameworks/Methodologies
 - Business Analyst Frameworks

The PMI Project Management Ready is aligned with Certiport's  "Learn, Practice, Certify" model. Courseware, practice tests and the certification exam will be offered through Certiport. The courseware will be available in October, practice test and exam available December 2020. Learn more about Certiport: https://certiport.pearsonvue.com/. 
If you are an individual or a school/test center and you are interested in obtaining pricing details about the Project Management Ready certification, practice tests, or learning materials; learn more from Certiport: https://gocertiport.pearsonvue.com/PMI.
KICKING OFF YOUR PROJECT HAS NEVER BEEN SO EASY
Project Manager may not be your job title. But you'll still be asked to manage projects throughout your career. Kickoff will show you how.
IT IS FREE!!!
This is a tutorial on the basics of Project Management for anybody - from Students to anyone who is managing projects in their day to day activities. 
This is a free 45-min course that has partnered up with tech giants - like Amazon, Tech Mahindra, and PMI. After completion of the course, it awards you a PMI badge that one can share with Social Media including LinkedIn.
See more information here: https://www.perfectkickoff.com/