Happy New Year from the Ithaca Branch! We're excited to share our plans for 2020.
On January 22, we're having our first Branch meeting of the New Year. Our speaker, Greg Busby, is a Certified Business Analysis Professional and his topic is the Tradeoff Matrix. I've used this tool to help facilitate teams decision making. We hope that you'll be able to join us either in person or virtually.
Our March 4 speaker is Michael Swenson. His session is titled "What's Trust Got To Do With It". As a FranklinCovey instructor, Michael brings years of experience to us. We're also offering this meeting both in person and virtually.
The Ithaca Professional Development Day (PDD) team has been hard at work surveying members about what is needed for an Ithaca PDD. We're happy to report that YES - we've begun planning for a PDD in the fall of 2020.
The Ithaca team has also been working with local college students to determine what is needed for Student Outreach. We're excited to share that we've begun plans to hold a panel discussion in the spring of 2020.
If you're interested in joining the volunteer team for any of these activities, please reach out to me at Ithaca@pmirochester.org.
We're looking forward to an exciting 2020!
Chris O'Brien
VP of the Ithaca Branch
ROC THE PROJECT KICK OFF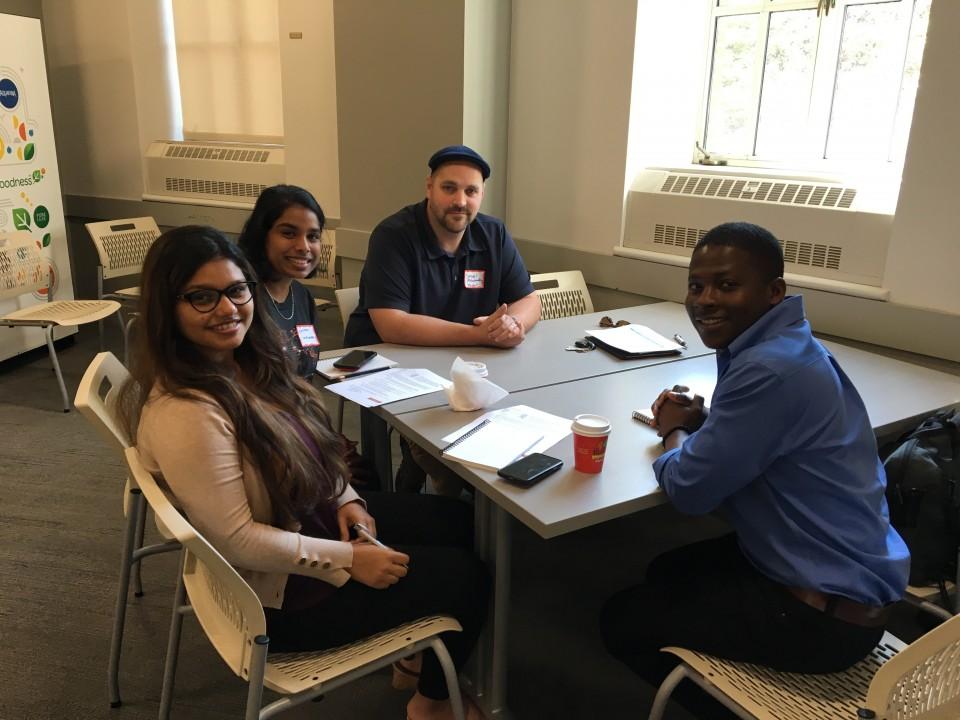 On Saturday September 14th, PMI Rochester kicked off it's ROC The Project (RTP) collegiate competition at Schlegal Hall on the University of Rochester campus. It was an amazing event! 7 teams from RIT and UofR registered for the competition. Over 30 Volunteers for this event that include, RTP Core Team, Mentors, Judges and Executive Judges. There was a powerful keynote speaker, Loriane Ngarambe about the Rochester-Monroe Anti-Poverty Initiative and the impacts of structural racism. The discussion raised our awareness as well as set the stage for the students to move into the actual competition.  The RTP competition focus helping to advance the good work of a non-profit in our community. This year we have the pleasure of working with the M.K. Ghandi Institute for Non-Violence. Kit Miller, Director, was in attendance to share with all of us the impactful work they are doing in not only Rochester but all over the world.  We wish the students all the success in giving back to their community as they create a strategy and plan for how to advance the M.K. Ghandi Institute with their work.  Many thanks to all the volunteers who made this happen! Thank you to UofR for letting us hold the event on campus.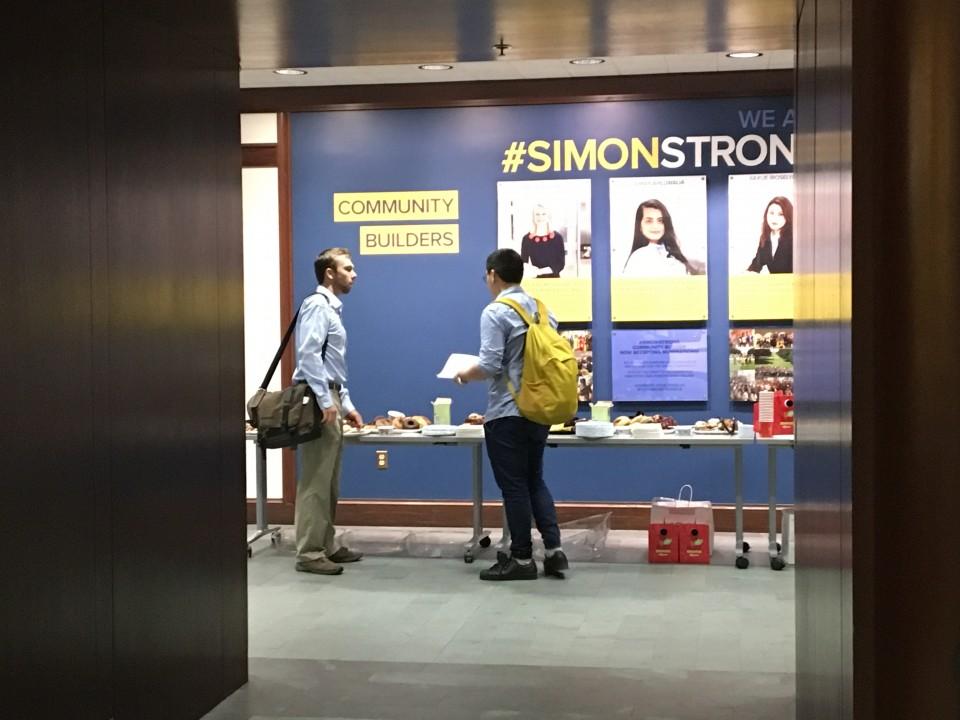 DIVERSITY AND INCLUSION UPDATE - WINTER 2020
PMI Rochester continues our commitment to Diversity, Equity, and Inclusion, and plan for more events and outreach in 2020. As we shift our focus from building the foundation of our program to expanding outreach, we again ask YOU to help us understand the PMI community we serve and its needs.
Your experiences, ideas, and opinions matter to us as we continue to embrace change. Please participate in our survey that you will receive near the end of January. It should take you no more than 3 minutes, and we assure you that all responses are fully confidential, and that your specific answers remain anonymous.
Please visit our website at https://pmirochester.org/diversityandinclusion or contact the Diversity and Inclusion Director at diversity@pmirochester.org.
PMI 2.0
As PMI's transformation evolves, how PMI will work with its stakeholders becomes clearer. Find out the most current information regarding the research and activities that are shaping the way we work with our five "partner channels" (chapters, REPs, academic programs, organization relations and volunteers) in support of making PMI the association of the future.
GLOBAL CELEBRATION OF SERVICE – A HUGE SUCCESS

2019 was such a special year for PMI. As we celebrated our 50th Anniversary, we also discovered how much we share a passion for service, for giving back, and for helping to make the world a better place. While our Global Celebration of Service program (https://www.pmi.org/anniversary/gallery) will be reshaped in the new year, our support of the United Nations Sustainable Development Goals and our commitment to service will continue well into the future. We thank the thousands of chapter leaders, members and volunteers who put their hearts into this program this year and did so much good around the globe. Stay tuned for more information on how you can continue to participate in 2020 and beyond.
NEWS YOU CAN USE
The PMP Exam is Changing in a Big Way
Every 3-5 years, PMI conducts research to adjust the PMP exam content so it remains relevant to the profession. Now PMI is changing the exam to include both predictive and agile/hybrid approaches to project management. Also, instead of five domains, the exam will focus on three domains: People, Process, and Business Environment. When this change was announced June, stakeholders immediately began sharing feedback and the consensus was they felt they needed more time to prepare. In response to that customer input, PMI made the decision to delay the PMP exam change until 1 July 2020.
This focus on the PMI 2.0 pillars has generated excitement within PMI and has responded to feedback and input from stakeholders around the world.  It's a great time to be a part of PMI!
PMI

's acquisition of Disciplined Agile and the FLEX approach to support Agile Practitioners in the enterprise

PMI

 has announced the acquisition of 

Disciplined Agile

  and the 

FLEX approach

  to support Agile practitioners in the enterprise. "This acquisition is an important building block for 

PMI

 as it addresses new ways of working in an increasingly agile world, and greatly expands the capabilities of project managers and agile practitioners alike," said Sunil Prashara, president and CEO of 

PMI

. "

PMI

 is now positioned to add even more value for members by providing a full continuum of products, services, training and certifications to project managers, agile leaders and their teams wherever they are in their careers – sometimes even before they know they need it. Regardless of approach, whether it be traditional or agile, project or product, 

PMI

 is uniquely positioned to deliver value for individuals and the organizations they serve."

 

Read these announcements and look for further developments as 

PMI

 assists the chapters in educating Project Managers and Agile practitioners with access to training, certifications and relevant communications supporting the Project Economy.
GOVERNANCE UPDATE!
Over the past few weeks, I've been pouring much thought into developing an actionable and meaningful strategic plan for the Governance portfolio.  And the theme for this year will be "Make Governance Sexy Again!"  One initiative for the portfolio will be to bring awareness to ethics and how they play a part in PMI and our daily lives.  The goal will be to provide strategies, tools, and techniques that you can use to aid in making a sound, ethical decision.
The Ethical Insight Team (EIT) is a collective of resources within PMI Global who volunteers with a focus on ethics.  In 2013 the EIT published a paper called "The Leader's Choice:  Five Steps to Ethical Decision Making" which was presented at the 2013 PMI Global Congress in Istanbul, Turkey.
"Leadership is connected to Ethics."  As project managers, we are tasks with managing interpersonal relationships with limited authority.  To be successful a project manager:
Has a purpose where we reason and act with the company or organization in mind;
Uses his/her knowledge to inquire, judge and act prudently;
Assumes the power to ask questions, make decisions and act on those decisions; and
Inspires and builds trust within teams and organizations.
Many organizations define and publish Codes of Conduct that explain how a company or organization supports the tenants above.  PMI Rochester is no different in that all leaders are required to sign a Code of Conduct annually.
The Code of Conduct, however, does not provide the tools and techniques necessary to address ethical issues.  It's not unusual for ethical challenges to come up that aren't resolved through a simple interpretation of this code.  Rather, we are expected to use tools in our toolbox to face ethical challenges head-on with the knowledge and experience gained in our lives and our careers.
As such, the EIT proposed a strategy called "The PMI Decision-Making Framework (EDMF)" focused on guiding leaders through ethical situations using a structured process.  The purpose of the EDMF is not to include every possible step or question for making an ethical decision rather encourages us to challenge ourselves with additional steps and questions.
A key aspect of the EDMF is critical thinking.  When we think critically we:
Recognize the problem;
Recognize optimal solutions that represent a balance of factors;
Gather pertinent information and recognize assumptions;
Interpret and evaluate information;
Draw and test conclusions; and
Evaluate consequences.
These steps should be familiar as many challenges faced in projects are addressed using this process.
An overview of the EDMF is shown below.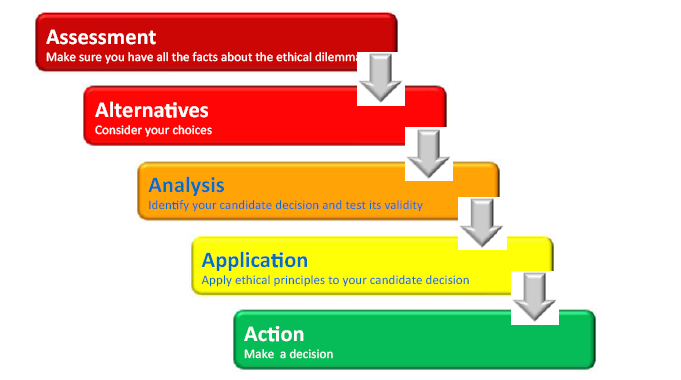 In their presentation of the concept the EIT defined each step as follows:
Assessment: Make sure you have all the facts about the ethical dilemma and ask these questions:

Does it abide by the law?
Does it align with the PMI Code of Ethics and Professional Conduct?
Does it agree with your employer's and client's code ethics and conduct?
Does it align with your ethical values and those of the surrounding culture?
If it does not abide by the law seek, legal counsel. If the answers to the above questions provide substantial facts to make a case, go to the next step. If you are not sure, you may need to gather more facts or ask a trusted person for advice.
Alternatives: Consider your choices by asking the following questions:

Have you listed possible choices?
Have you considered the pros and cons of each possible choice?
If the answers to the above questions result in a viable solution, go to the next step to analyze your candidate decision. If not, you may need to gather more facts and complete your research.
Analysis: Identify your candidate decision and test its validity with these questions:

Will your candidate decision have a positive impact or prevent harm to project managers, PMI staff or volunteers, clients, your employer's organization, other stakeholders, the environment, or future generations?
Does your candidate decision take cultural differences into account?
Looking back, will this decision seem like a good idea a year from now?
Are you free from external influence to make this decision?
Are you in a calm and unstressed state of mind? If the possible impacts are acceptable, proceed to check your decision against ethical principles in the next step.
If not, consider taking the time to test another candidate's decision, renew your options and/or your case.
Application: Apply ethical principles to your candidate decision by asking these questions:

Would your choice result in the greatest good?
Would your choice to treat others as you would like to be treated?
Would your choice be fair and beneficial to all concerned?
If these or other traditional philosophical questions evoke doubts or seem to create It new dilemma, you might need to reconsider your decision, review the facts, the options, and the implications.
If the answer is Yes" and your candidate decision seems consistent with other ethical principles, move to the next step to decide and take action.
Action: Decide after considering these questions:

Are you willing to accept responsibility for your decision?
Could you make your decision public and feel good about it?
Are you ready to act?
If you are comfortable with your decision, take action. If not, retrace these steps to discover a better solution.
You can access more information in the EDMF by visiting https://www.pmi.org/learning/library/ethical-decision-making-trend-5788. 
Stay tuned throughout the year as more tips, tricks and strategies are shared as we "Make Governance Sexy Again!"
-Brian Gregory, VP of Governance
MEMBERSHIP NEWS
CONGRATULATIONS ARE IN ORDER! 
Congratulations to the following members for continuously improving their skills and gaining new knowledge with PMI. 
CELEBRATE NEW MEMBERS 
Our chapter continues to grow! Let's welcome the following new members of PMI Rochester:
Cheryl DeRue
Chukwunonso Nwanze
Bethann Blood
Jeffrey Mills
Praneeth Chaganti
Lawana Jones
Tara Germano
Anna Taylor
Brian Putnam
Anthony Harvey
We're growing so rapidly in the past few months. We have 900+ members and continue to increase daily. Welcome and thank you to all of our new members.