<< Back to Calendar
Leadership in Project Management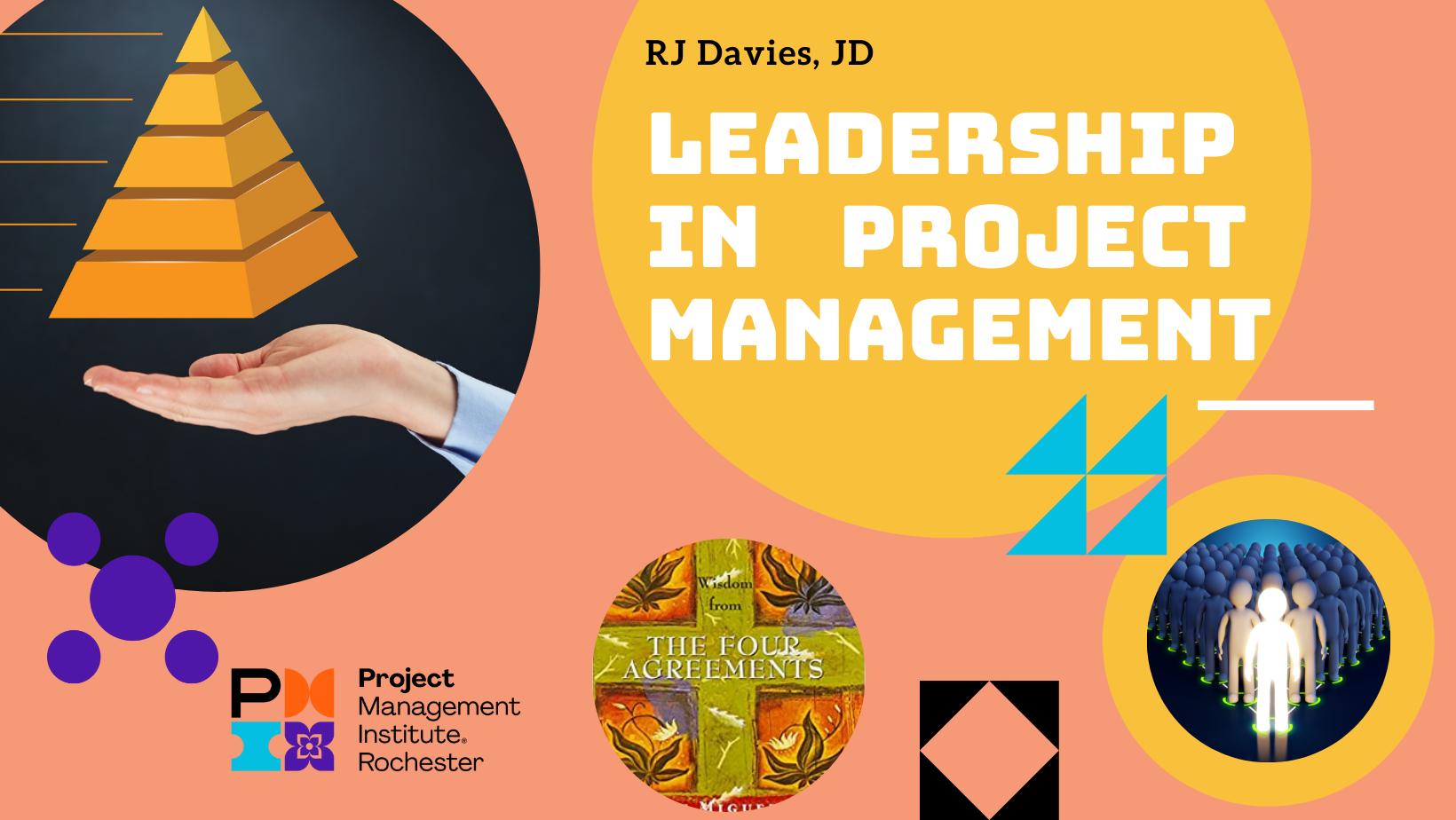 Have you ever wondered: What are the differences between Leadership and Project Management, or How could I improve as a Leader in the role of Project Manager?

Join RJ Davies as he shares his thoughts about the traits of leadership in the form of the "Leadership Pyramid" and how it relates to Project Management. He also will share an introduction to "The Four Agreements" and how practicing them relates to the "Leadership Pyramid" and relates to strengthening one's potential effectiveness as a Leader in the role of Project Manager.
Speaker: 
RJ Davies, JD
Former Director, Project Management Office
Cornell University
Bio: 
RJ Davies is the former Director of the Project Management Office (PMO) in Cornell Information Technologies (CIT), who has more than 40 years of Information Technology (IT) Project Management experience. Prior to his retirement from Cornell University in the fall of 2019, RJ provided strategic leadership for delivering high-value, Cornell-wide, large-scale IT projects and for the oversight of Cornell's IT Governance project process, including IT Capital project prioritization.
Before joining Cornell in 2007, RJ worked for New York State Electric & Gas Corporation (NYSEG) managing large IT projects for administrative information systems development, corporate mergers and acquisitions, and information resource management.
Prior to joining NYSEG in 1981, RJ managed large administrative information system development projects for the University of Illinois at Urbana-Champaign.
RJ has a Juris Doctor degree from Chase College of Law and a B.S. in Computer Science from Cornell University. He is a Life Member of the IEEE.
Zoom Meeting details will be sent in the confirmation e-mail upon registration. 

PHOTOGRAPHY AND VIDEOGRAPHY ON PREMISES AT PMI ROCHESTER EVENTS
A photographer may be on site to document a PMI Rochester event and/or activities. Photographs and video footage are the sole property of PMI® Rochester Chapter, Inc. By registering for and/or attending this event, attendees understand that PMI Rochester may use their likenesses for promotional purposes. If you do not wish to be photographed, please notify the photographer on site at the event. Otherwise we reserve the right to post photos and video with your likeness posted to the PMI Rochester website.
It is no longer possible to register for this event