<< Back to Calendar
Project Management Lessons from FOLIO at Cornell... or, how implementing an open-source system that is still in development is like climbing a mountain with a 10-year old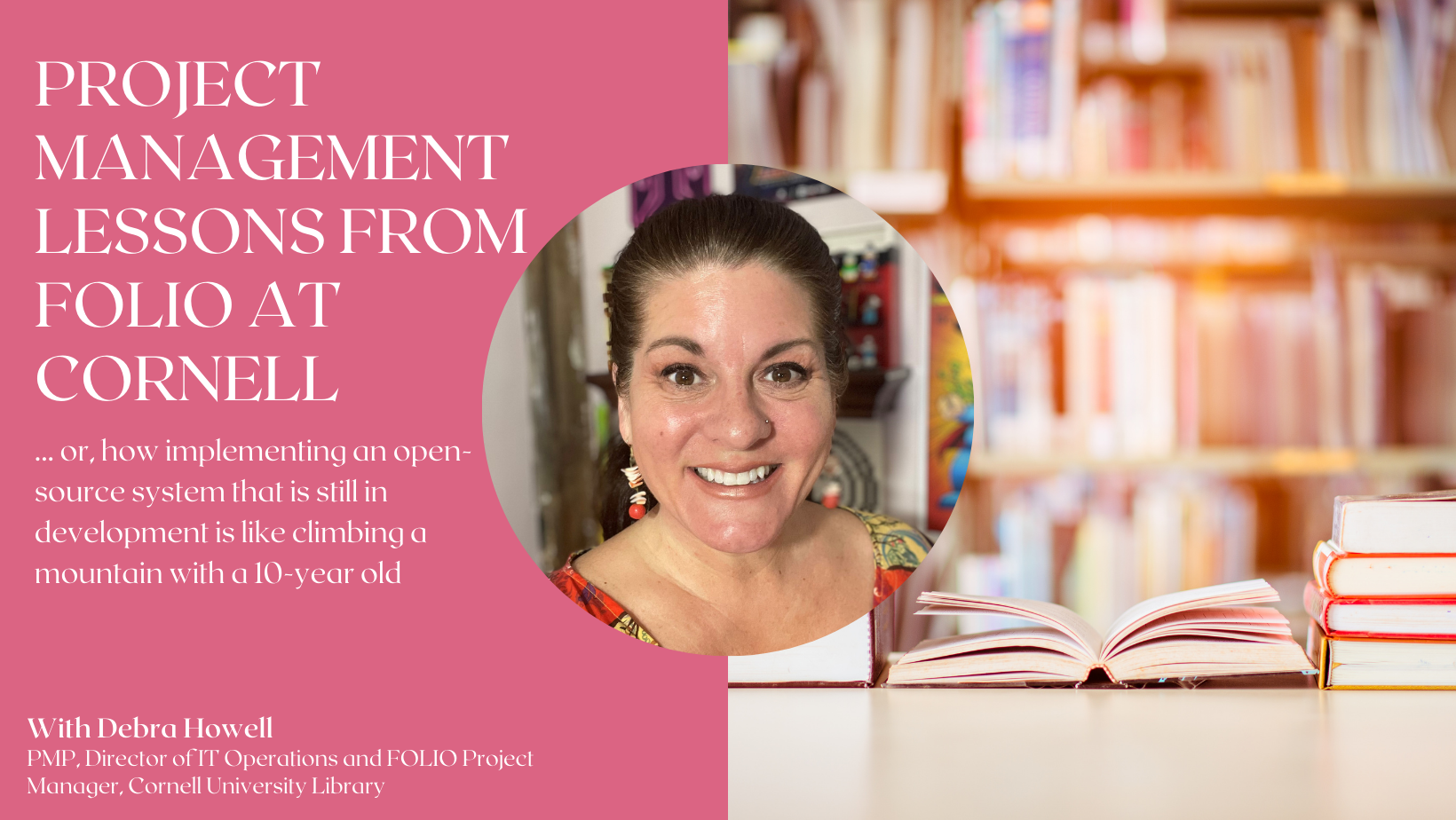 Hoster by: 
Ithaca Branch
Presentation Brief: 
At the beginning of July 2021, Cornell University Library made a giant leap to the future by implementing an innovative integrated library system (ILS) called FOLIO, becoming the first large research library in the world to migrate to the platform. The journey to the successful go-live was filled with victories, road blocks, detours, and dead ends. Join Debra Howell, FOLIO project manager, as she shares her lessons learned and reflections on a project that stretched her to the limits of her knowledge, resources, and sense of humor.
Agenda: 
11:45am-12:00pm: Welcome, Chapter Updates
12:00pm-1:00pm:   Presentation
Speaker: 
Debra Howell, PMP, Director of IT Operations and FOLIO Project Manager, Cornell University Library
Bio: 
Debra Howell is the Director of IT Operations for the University Libraries at Cornell University and has over 20 years of experience providing project management and strategic direction to all areas of information technology. Debra has an extensive background in facilitation, organizational change, teambuilding, and leadership. She received her Master of Industrial and Labor Relations degree from Cornell University in 2006. She is a certified Project Management Professional (PMP), an Office of the Secretary of Defense certified Master Trainer, and serves as the Information Officer on the Board of the NYS American Council on Education Women's Network.
PDUs: 
0.5 Leadership + 0.5 Strategic Business Management skills
Zoom Meeting details will be included in the invoice confirmation email, upon registration. 

PHOTOGRAPHY AND VIDEOGRAPHY ON PREMISES AT PMI ROCHESTER EVENTS
A photographer may be on site to document a PMI Rochester event and/or activities. Photographs and video footage are the sole property of PMI® Rochester Chapter, Inc. By registering for and/or attending this event, attendees understand that PMI Rochester may use their likenesses for promotional purposes. If you do not wish to be photographed, please notify the photographer on site at the event. Otherwise we reserve the right to post photos and video with your likeness posted to the PMI Rochester website.
It is no longer possible to register for this event