<< Back to Calendar
Effective Scheduling Techniques Workshop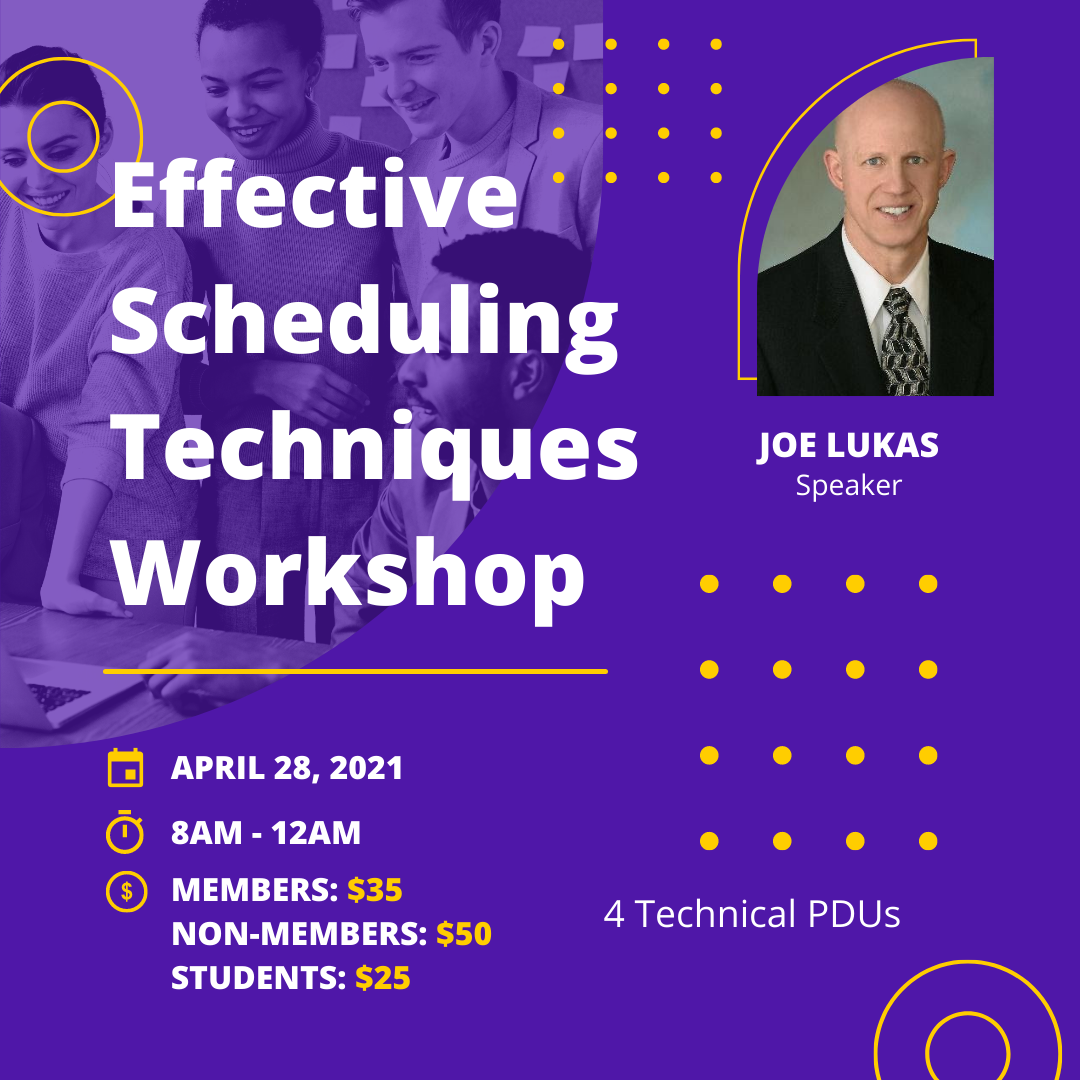 Workshop Description: 
Too many projects do not finish "on schedule", and that shouldn't be a surprise given that many project schedules contain numerous errors that result in an incorrect completion date. This workshop will show you how to create a concise and correct schedule for waterfall and iterative projects. Types and formats of schedules, the appropriate level of detail for schedules, and the correct naming of deliverables and activities will be addressed. Scheduling fundamentals will be reviewed including task relationship types, task duration estimates, critical path method calculations, float and use of contingency. Guidelines for keeping your project on track will be covered including how to show progress, manage changes and shorten the schedule. This workshop is based on the many reviews done by the presenter of both waterfall and iterative projects.
Workshop Objectives: 
This practical workshop emphasizes the best practices for developing and maintaining project schedules for waterfall and iterative project environments. Upon completion of this workshop, you will be able to: 
Select the most appropriate schedule type and format for your projects 
Improve estimates for work effort and duration 
Use scheduling best practices to prepare a correct and concise schedule 
Manage the schedule based on progress and changes
Speaker: 
Joe Lukas has been involved in project management for over 35 years. His work experience spans engineering, manufacturing, construction, project controls, estimating, contracting and project, program and portfolio management. His projects experience includes information systems, product development, construction and manufacturing.
Joe joined PMI in 1986 and has held many Chapter Board positions in Rochester, NY including two terms as President. He is a registered Professional Engineer, Project Management Professional, Certified Scrum Master and Certified Cost Professional. Joe has over 50 published articles on project management topics, and is a frequent guest speaker for companies and organizations across the country. Joe teaches and consults on project management topics and interpersonal skills.

PHOTOGRAPHY AND VIDEOGRAPHY ON PREMISES AT PMI ROCHESTER EVENTS
A photographer may be on site to document a PMI Rochester event and/or activities. Photographs and video footage are the sole property of PMI® Rochester Chapter, Inc. By registering for and/or attending this event, attendees understand that PMI Rochester may use their likenesses for promotional purposes. If you do not wish to be photographed, please notify the photographer on site at the event. Otherwise we reserve the right to post photos and video with your likeness posted to the PMI Rochester website.
Register to this event