<< Back to Calendar
Today's Project Leader: Inclusive Interactions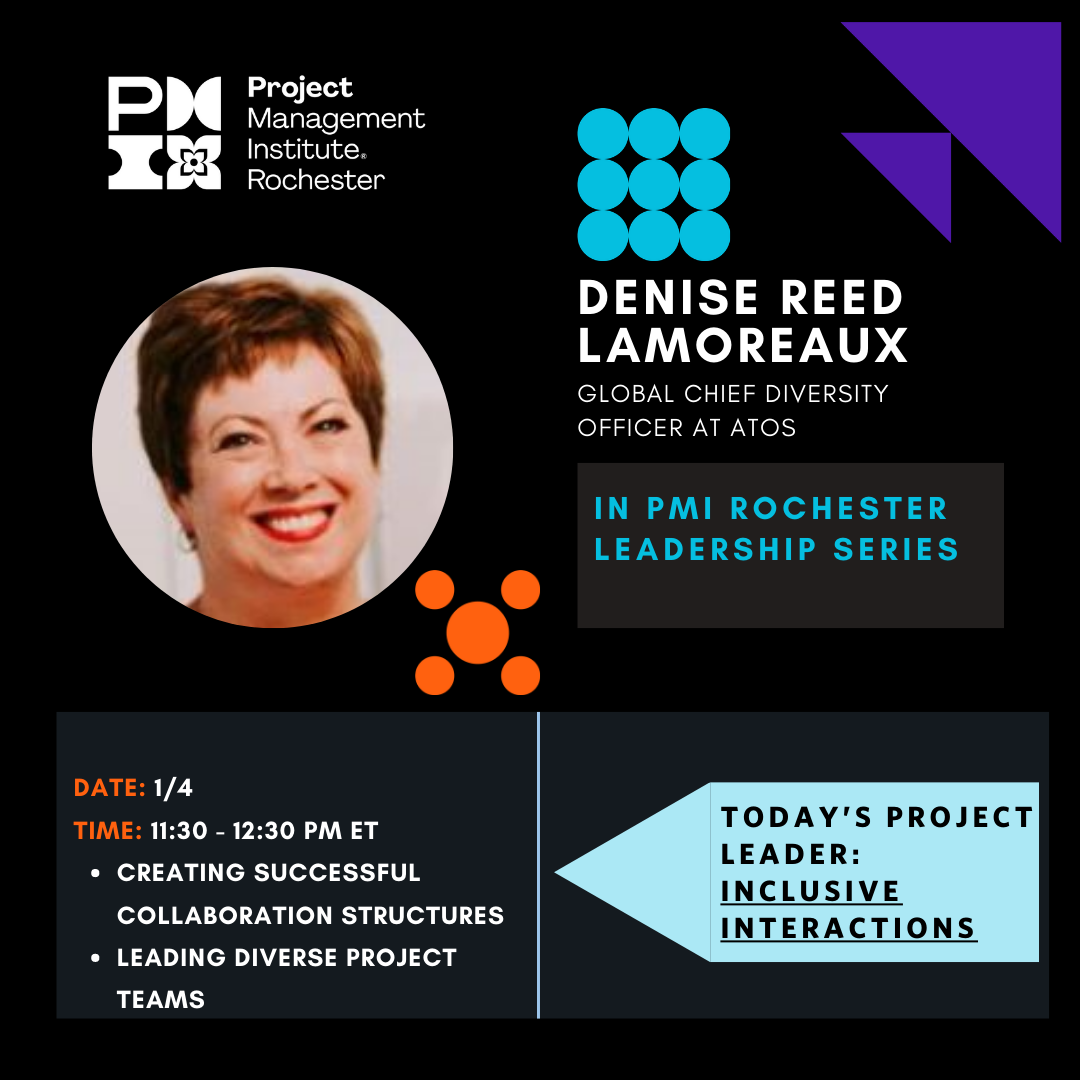 Description: 
Creating successful collaboration structures

Leading diverse project teams
Speaker: 
Denise Reed Lamoreaux is the Global Chief Diversity Officer at Atos with a proven track record of producing extraordinary results. In her role, Denise strives to:
Drive efforts to increase diversity of staff members through education programming, coaching, mentoring and recruitment/retention strategies, while fostering an inclusive workplace that values, and is sensitive to, the diversity of our staff
Interface with legal, communications, marketing, and HR teams to directly impact employee perceptions and corporate culture
Facilitate, moderate, and evaluate corporate programs to provide transformational experiences
Liaise with recruiting and internal first to hire, promote, and retain key talent from all representative groups
Lead both operational and strategic activities for internal and external audiences to affect change and impact decisions in recruiting, hiring, retention, and recognition
Collaborate with Learning and Development to support employee success by offering programs, services, individual assistance and resources designed to enhance the diverse development of 120,000 + global resources in 73 countries
Position Atos as an ethical, diverse, and inclusive employer of choice
Based in Rochester, New York, Denise has been involved in diversity and learning-related endeavors for 30 + years.  Her career has encompassed Secondary Education, Professional Leadership Coaching, Leadership, and Instructing at both the University of Rochester's Simon Business School and Monroe Community College's Corporate College program.  She has served as Global Chief Diversity Officer at Atos for 4 years. 
Denise led and participated in the development and delivery of programs that produced winning results:
Top 50 Diversity Stars by National Diversity Council
org's Best Employers For Women's Advancement List
Brandon Hall Bronze for Women Who Succeed
Women In IT Award for Diversity Initiative Of The Year (2 years in a row)
Times Top 50 List Of Best Employers For Women (2 years in a row)
#41 on the UK's Stonewall Index for LGBT+
Brandon Hall Bronze Award for Diversity and Inclusion Programming
The Prince's Trust "Best Place For Race" designation
VERCIDA's Top 10 List for Gender & Top 5 List for Generations
Atos HR Honors Award For NAO Diversity Programming
Atos Bronze Award for Exemplary Performance
Brandon Hall Silver Award for Best Blended Learning Solution
Corp U Award for Most Innovative Idea Implementation Program
HP Top Ten Happening
HP's HR Heroes Award for excellence in video learning
BELC's Educator Award for career development programs
Publications featuring Denise's work:

PHOTOGRAPHY AND VIDEOGRAPHY ON PREMISES AT PMI ROCHESTER EVENTS
A photographer may be on site to document a PMI Rochester event and/or activities. Photographs and video footage are the sole property of PMI® Rochester Chapter, Inc. By registering for and/or attending this event, attendees understand that PMI Rochester may use their likenesses for promotional purposes. If you do not wish to be photographed, please notify the photographer on site at the event. Otherwise we reserve the right to post photos and video with your likeness posted to the PMI Rochester website.
It is no longer possible to register for this event