<< Back to Calendar
Disciplined Agile Lean Scrum Master DALSM Certification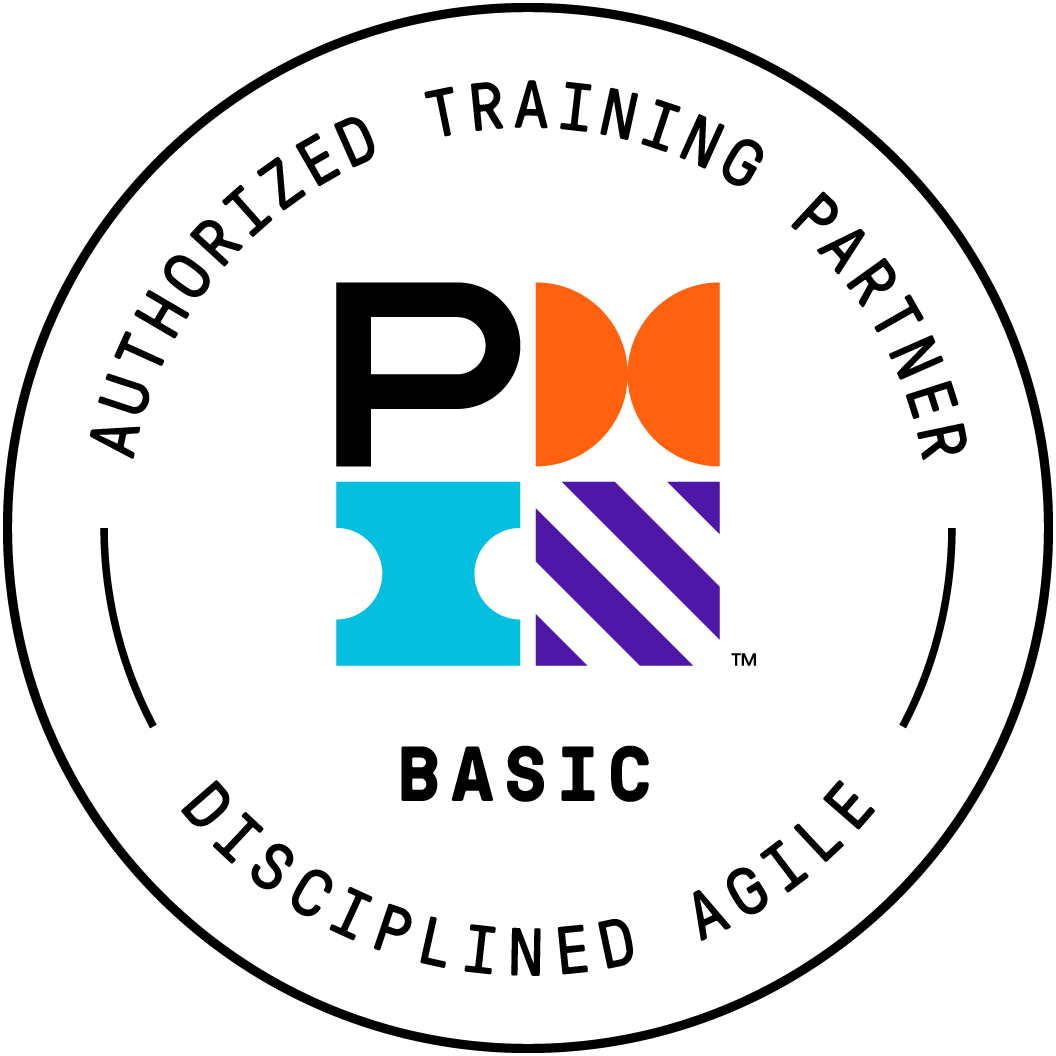 LIVE Virtual Disciplined Agile Lean Scrum Master Training
Guerrilla Project Management is offering a special PMI Disciplined Agile Training opportunity. This is a 2-day Live virtual course offering a pathway from PMI Disciplined Agilist (DA) Certification on to advanced Certification based on experience and references.
Professionals experienced in Agile (Scrum) & Lean completing the course will receive one free attempt at the Certified Disciplined Agilist (CDA) exam good for 30 days. CDA Certificate holders may then apply for either the Certified Disciplined Agile Practitioner (CDAP) or the Disciplined Agile Lean Scrum Master (DALSM) depending on experiences and references. Upon application verification, the CDAP or DALSM would be awarded to qualified, verified candidates.
Please visit the PMI Disciplined Agile Consortium: https://disciplinedagileconsortium.org/certifications For a full description of requirements for all certifications.
PLEASE NOTE that space is limited to 24 seats, so please be encouraged to register early and to take advantage of early bird pricing! Materials will be shipped directly to students, so registration end dates are firm.
When Join us for a 2-day Live Virtual Disciplined Agile Lean Scrum Master (DALSM) Training!
Thursday, October 22 to Friday, October 23, 9:00 AM – 5:00 PM EST
Optional: Attendees are encouraged to attend a Sunday evening introduction to the virtual environment, October 11, 8:00 - 10:00 PM EST
Use Code: RSM44126pmirochester $200 OFF
Disciplined Agile Lean Scrum Master
The 2-day Disciplined Agile Lean Scrum Master course is for people who:
Understand the fundamentals of Agile and Lean, and have experience applying them in practice
Are experienced with Agile and who want to take their career to the next level
Upon completion of this workshop, attendees:
Earn the designation of Disciplined Agilist , free first year membership to Disciplined Agile, and full benefits; a $50 value.
Who are professionals experienced in Agile (Scrum) & Lean will also receive one free attempt of Disciplined Agilist (CDA) exam good when taken within 30 days of the course end date.
Register now and be among the 24 attendees for this course!
Instruction
Held in the Eastern United States Time Zone (EST)
Given in English
Requires student to be video present, video camera on
Facilitated by Andy Burns, PMP, PMI-ACP, DACI, your PMI Certified Instructor
Delivery
This is not a webinar! This is live, virtual instruction and participative. Students must have a video capable computer with high speed internet connection. Zoom conferencing ( zoom.us/ ) and miro online collaborative whiteboarding ( miro.com ) will be the principle tools used. Links and access to be provided.
Core reference material
Students will receive, Choose Your WoW! A Disciplined Agile Delivery Handbook for Optimizing Your Way of Working. - No touch delivery to you through Amazon.
Upon completion you will be able to:
Determine the steps required to achieve Business Agility and what it takes to do it in your organization
Choose the appropriate practices and techniques given your working environment to continuously improve your WoW
Identify tailored solutions to address common organizational and management needs that still exist even when you are agile
Disciplined Agile Lean Scrum Master (DALSM) is for practitioners who are focused on learning and applying the Disciplined Agile approach in leading teams. It is made up of the following 2 modules:
Day 1 - Foundations of Disciplined Agile
Discover the basic elements and scope of Disciplined Agile
Understand the full range of business agility
Learn how to organize people into agile teams
Understand where you fit into an agile team or organization
Organize the flow of work within a team and across teams
See how teams can work differently yet still be governed consistently.
Day 1 - Foundations of Disciplined Agile
The Disciplined Agile Mindset• The Agile Manifesto and its principles• What is business agility?• The seven principles of Disciplined Agile• The Disciplined Agile Manifesto
Overview• Guided Continuous Improvement (GCI) enables teams to continuously improve.• Disciplined Agile is an agnostic hybrid of approaches that leverages strategies from a variety of sources.• Disciplined Agile (DA) is architected into four views.• Process goal diagrams enable teams to understand their process options.• Agile is scaled tactically at the team level, and there are six scaling factors to consider.• Agile is scaled strategically at the organization level.
People and Teams• Leaders and managers are different, and both are important.• Agile teams need leaders.• The role of leader will vary by team and needs to be fit for purpose.• There are many potential agile roles.• Where do you fit in?
Team Agility• DA is organized into process blades.• Your organization is a complex adaptive system (CAS).• Teams have working agreements.• Project teams versus long-standing teams.• DA supports a variety of lifecycles.• Teams will choose and evolve their way of working (WoW).• DA supports consistent, streamlined governance of teams.• Project lifecycles have phases, other lifecycles do not.• Team structure should be fit for purpose.
Business Agility• Value Streams• Disciplined Agile Enterprise• Disciplined Agile IT• Disciplined DevOps
Lean Governance• You are being governed, you deserve to be governed well• Traditional governance strategies are ill-equipped for agile/lean• Lean governance focuses on motivation and enablement over command and control
Day 2 - Choosing Your WoW™ (Way of Working):
Demonstrate how to lead your team through a tailoring workshop to identify their initial Way of Working (WoW).
Select the best-fit lifecycle for your team.
Choose the Disciplined Agile goal diagrams that are most relevant to your team's situation.
Apply the relevant goal diagrams to identify techniques and practices that are most likely to work in your team's context.
Improve retrospectives by using tools from Disciplined Agile to identify techniques that will more accurately address your current challenges.Day 2 - Choosing Your WoW™ (Way of Working):1. DA principles and complex adaptive systems (CAS)2. Five steps to choosing your team's way of working (WoW)
We lay out the five steps for choosing your team's way of working
Who is involved in choosing your team's WoW?
What other practices are part of "evolving your team's WoW"?
Professional Development Units (PDUs)Credit: 10.5 Technical and 3.5 Leadership PDUs (14 total PDUs)
Further Questions
Have questions about Disciplined Agile Scrum Master Live Virtual Training? Contact your Instructor Andy Burns PMP, PMI-ACP, DACI, CDAC: awb.awb@pmguerrilla.com

PHOTOGRAPHY AND VIDEOGRAPHY ON PREMISES AT PMI ROCHESTER EVENTS
A photographer may be on site to document a PMI Rochester event and/or activities. Photographs and video footage are the sole property of PMI® Rochester Chapter, Inc. By registering for and/or attending this event, attendees understand that PMI Rochester may use their likenesses for promotional purposes. If you do not wish to be photographed, please notify the photographer on site at the event. Otherwise we reserve the right to post photos and video with your likeness posted to the PMI Rochester website.
It is no longer possible to register for this event