<< Back to Calendar
Agile and Systems Engineering - Rochester Location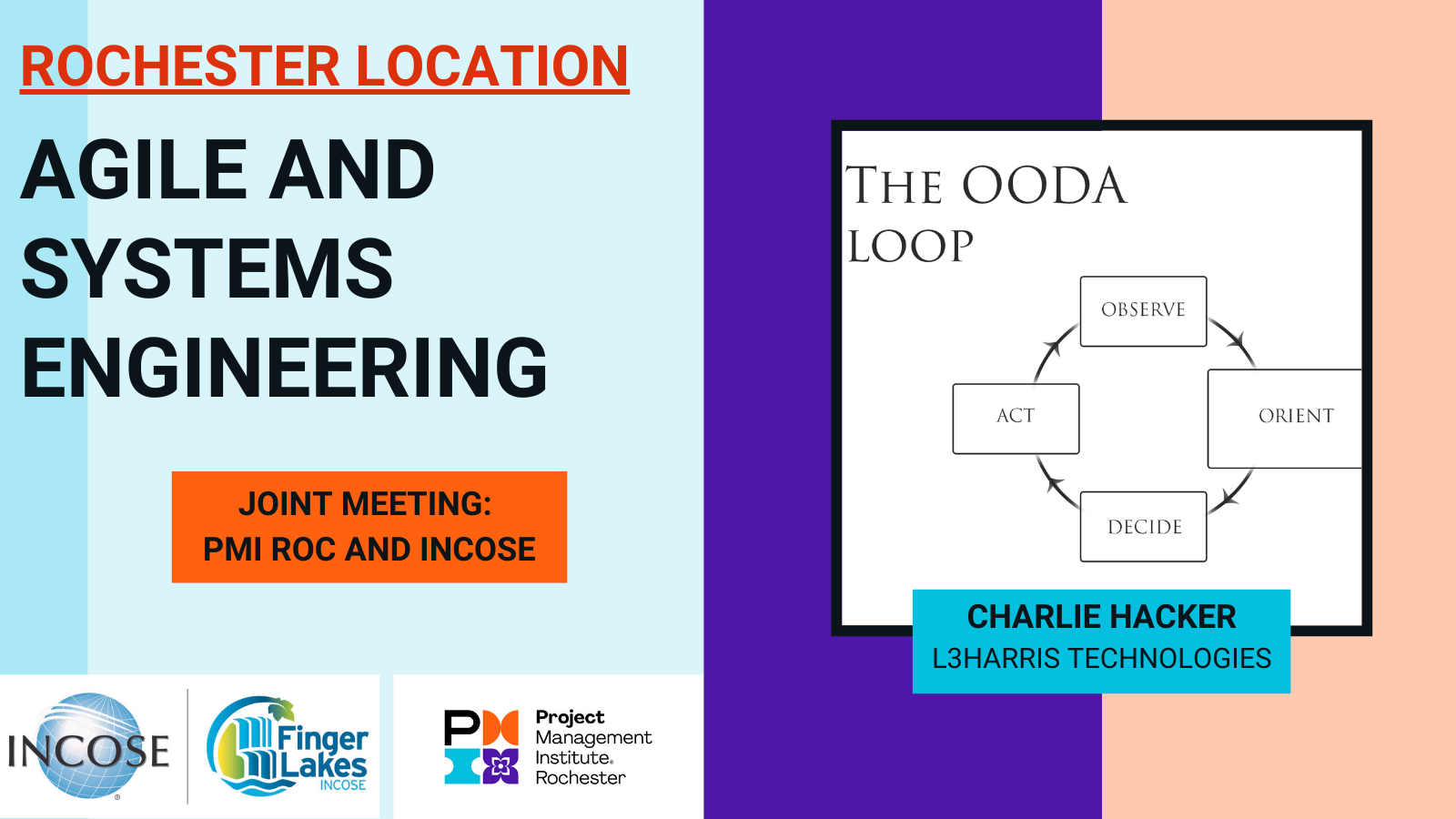 Joint Chapter Meeting:
 &  
Registration is Open until December 9th, 2022. 
THIS IS REGISTRATION FOR ROCHESTER IN-PERSON EVENT. 
Hybrid Event with 2 In-Person Locations in Rochester & Ithaca, NY (food will be available) + Online via Zoom 
Abstract: 
Review the Pugh Decision Matrix and the OODA decision framework. Scottish scientist Stuart Pugh developed a decision matrix to address decision-making with multiple criteria using simple math, weighted or unweighted.  The OODA decision framework or observe-orient-decide-act cycle was developed by US Air Force Colonel John Boyd.  John Boyd applied the decision-making concept to the combat operations process. OODA can be used to explain how agility can overcome raw power and applies to cyber security and cyber warfare.  The Pugh Decision Matrix and OODA decision framework will be reviewed across a spectrum of decision types including concepts like Bezos' Type 1 (irreversible) and Type 2 decisions (reversible), time to decision, ambiguity/uncertainty, buy-in, and helpful techniques to improve decision efficiency and effectiveness. 
Speaker: 
Charlie Hacker, L3 Harris Technologies
Agenda: 
| | | |
| --- | --- | --- |
| Welcome, PMI Rochester Introduction   | 6:00 PM – 6:15 PM | Laura Segave |
| INCOSE Finger Lakes Intro |  6:15 PM – 6:25 PM  | Teresa Froncek |
| What is Systems Engineering?    |  6:25 PM – 6:35 PM  | Rick Zinni |
| Agile and Systems Engineering Talk w/Q&A  | 6:35 PM – 7:25 PM | Charlie Hacker |
| Next Steps  |      7:25 PM – 7:30 PM        | MC |

PHOTOGRAPHY AND VIDEOGRAPHY ON PREMISES AT PMI ROCHESTER EVENTS
A photographer may be on site to document a PMI Rochester event and/or activities. Photographs and video footage are the sole property of PMI® Rochester Chapter, Inc. By registering for and/or attending this event, attendees understand that PMI Rochester may use their likenesses for promotional purposes. If you do not wish to be photographed, please notify the photographer on site at the event. Otherwise we reserve the right to post photos and video with your likeness posted to the PMI Rochester website.
Register for this event