Manisha Mande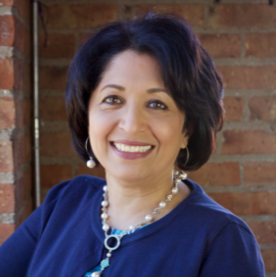 Occupation:

Staff Program Manager

Certification: PMP, CSM, DASSM, LSS-Green Belt

PMI/PMI ROC Member since: 2014-2015

Volunteer Since: Last 6 years
---
What Motivates You?
Teaching others "to Fish" so to speak – sharing your knowledge and expertise with others

Going the extra mile when no one is expecting.

Influence – the knowledge that you can influence the right decisions is very powerful

Go Do – rather then a prescriptive way of this is what I want. Go Do leaves it up to me to figure it out and the best way to present it. It gets my creative juices flowing.
What is the latest challenge you have undertaken?
I must learn the hardware portion of my current job. Having always been on the software side, it is daunting but not impossible. Google is currently my best friend.

Learning Jira to do everything in support of a project. Being new, I have learnt to figure it out.
What does the Chapter bring to you?
Connections to others who have experience in a given field

Camaraderie

Getting certification classes

Common cause of giving back to the community
What makes a PM good at their job?
Ability to Influence

Negotiating with team members/managers

Good at Persuasion

Effectively leading Team from start to finish

Learning from your mistakes

Leadership skills as you oversee the project:

Motivating team

Knowing your teams' strengths and weaknesses and focusing on the strengths to have them perform at their best throughout the project.

Good Communication skills

Getting to the root of a problem and helping the team to solve it

Enthusiasm: It is infectious and keeping a positive attitude rubs off on the team.

Integrity: Don't sweep problems/mistakes under the rug; take ownership and have potential solutions (after talking to the team) in your back pocket.
What is something you think PMs should do/say more often?
If all goes well, it's because of the Team; if something doesn't go well it's because of me as the PM. Give credit to your team. Nothing today is a one man/woman show any more.
What does success mean to you?
Success has no deadline in my opinion. Success to me is believing in myself! Success to me is giving back to the community; It's learning new skills and staying current; Success is being able to make a positive impact at work to deliver on the results of the project. Success is being open to new ideas and not resisting change. Success is being inspired to never lose sight of your accomplishments and like the waves of the ocean, find other mountains to climb!
What do I like to do outside of work?
I love meeting up with friends

I love interior decorating/redesigning. I redid my living room, converted a bedroom into an office, completed an architectural wall in another bedroom culminating in redesigning the master bedroom all during Covid furlough!

I love scrapbooking! I've made beautiful ones for a wedding, family trips, marking a graduation etc.

And now that I have a four-legged friend, I love having Lord Bentley in my life!!
If you work remotely, what's your number one tip for combating distractions when working from home?
Send an agenda in advance. Confirm with presenters they are ready to present. Ask team members questions/clarifications.
Best Professional Development Book I've read:
Agile Leadership by Jeff Cohn & Choosing your WoW by Scott Ambler and Mark Lines. Another non-professional development book I would recommend is "Behind the Cloud" by Marc Benioff Chairman and CEO of Salesforce.com.
What is your absolute dream job?
Work for a Non-Profit serving women and girls.
Say you're independently wealthy and don't have to work, what would you do with your time?
I would divide the year into quarters. Three quarters I'd help non-profits and one quarter I'd travel to see the world, go to jazz and Indian classical music+dance concerts.
---
This or That Questions:
Home Office or Onsite:

Home Office

Waterfall PM or Agile PM:

Agile PM

Teamwork or Solo: Teamwork
Email or Call:

Both

Start Work Late or Leave Work Early:

Neither – Start Work Early is my preference.

Video Meetings or In-Person Meetings: Video (post Covid)
Company Retreat or Company Holiday Party:

Company Holiday Party

Messy Desk or Clean Desk:

Clean Desk

Casual or Business Attire: Business Casual 😉
Hot Coffee or Iced Coffee:

Neither – Prefer Hot Ginger tea