PMI ROCHESTER GRANTS OFFER SUPPORT!
Funding is just the beginning of the journey to developing a new career path or building on the path you're on. Are you looking for some extra help funding your professional development? The PMI Rochester Chapter is here to help.
We will be granting up to $5000 in awards in 2019! You have options.
Are you thinking about boosting your knowledge so that you can be a more effective project manager at work or for your community's important programs? If you answered yes and you are a PMI Rochester/Ithaca Chapter member planning to take a professional development course or certification to help you advance your career in Project Management, apply for a grant to help offset the costs. You could be awarded up to $1000.
If you are interested in applying for the award, please follow the two steps below:
Check the PMI Rochester Grants Policy and Guidelines Click here.
Download the application form Click here.
WINTER 2019 GRANT OFFERING:
Open Application Receipt: January 14
Application Deadline: January 31
Announce Winner + Amount: February 15*
NOTE: Grants awarded in this cycle must be used by 6/30/2019
Next grant offering to be announced.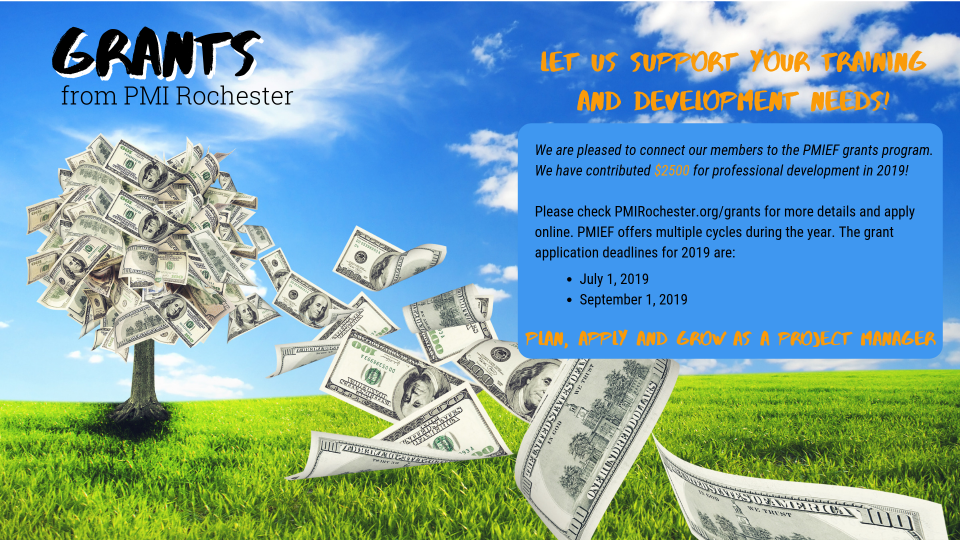 Any questions about this Grant Program or about the application, please reach out to our Director of Grants and Scholarships at grants@pmirochester.org.